In 2016, the Federal Office of Public Health (FOPH) published the WTO tender for the operation of the official Swiss health insurance calculator Priminfo. Meteotest has been awarded the contract and has ensured the operation of the website and the annual preparation of the data since 2017.
At the request of the FOPH, the website was optimized for accessibility according to WCAG 2.0 Level AA in the course of 2018 and subsequently successfully certified by Access for All. Priminfo.ch thus becomes one of the pioneering websites in the implementation of the Swiss Federal Accessibility Directive.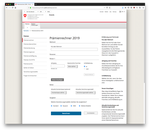 Furthermore, the annual production of the data underlying the calcualtor was rebuilt. The import of the numerous data sources and the subsequent processing of the data and documents were automated. By this measure, a better reproducibility of the results can be ensured. Furthermore, the time between the release of the data by insurers or Federal Agencies and the publication of the results on the occasion of the annual press conference by the Minister of the Interior is significantly reduced. Short-term fixes to the data sources can be easily, quickly and securely included.