On the website of the FOEN, current and historical measurement data are shown in tabular and graphic form under air pollution. Article 10e of the Environmental Protection Act obliges the authorities to properly inform the public about environmental protection and the status of environmental pollution.
In addition to the hourly updated maps and measurement values, the website offers information about historical data, an overview of the long-term development of air pollution and the measurement network in general. This makes it possible, for example, to understand the effects of measures on air quality.
Meteotest has renewed this website on behalf of the FOEN. The maps of the current air pollution data from the NABEL measurement network and the cantonal departments are presented using the latest technology. In particular, the graphics and tables are now implemented with responsive design and can also be used well on smartphones and tablets.

With the redesign, the FOEN, the cantons and interested citizens have a platform at their disposal to find out about the current and past air pollution in numerous maps and graphics.

The display of the current air pollution maps for PM10 particulate matter (moving 24-hour averages) and for the hourly averages of ozone have been significantly improved. The maps of the last 72 hours can now also be viewed, which means that changes over time due to the build-up and breakdown of air pollution can be better visualized. The basis for the particulate matter map is an immission modeling from Meteotest, in which the maps are adjusted hourly to the current measured values.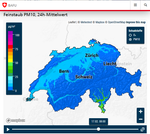 Methodology
The adjustments combine the expertise of Meteotest in the areas of air quality / pollutant modeling and web development.
The map application used on the FOEN website is based on the Meteotest service MAAP, a state-of-the-art map library for websites developed by Meteotest's web specialists.
It enables a fast and lean representation of geodata in web applications. MAAP is designed responsive, i.e. the application runs optimally on PC screens, tablets and smartphones.