Climate change leads to rising temperatures. These will continue to rise in the future, even if the goals of the Paris climate agreement is fulfiled. Compared to average temperatures, maximum temperatures will rise much more. In the Swiss midlands, temperature maxima of 35-39°C are to be expected.
In addition to all efforts to protect the climate, strategies for dealing with a warmer climate must therefore be developed in parallel. In the urban area, this means above all adapted construction methods and environmental design, which can counteract the increasing heat load caused by higher temperatures and ensure a microclimate with good quality of stay even on hot days.
When developing areas, the microclimate can be influenced with specific design. Permeability to wind currents, bright colors, shade, trees, and moving water significantly lower maximum temperatures and can be integrated into planning as design elements in a variety of ways.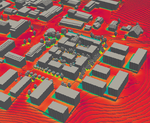 3D implementation of the Tschuopis area in the model and representation of the PET for the afternoon situation.
In the commune of Littau in the west of the city of Lucerne, a new superstructure is being built on the edge of the settlement: Littau-West Tschuopis. A development plan for the area was drawn up by an architectural firm on the basis of an urban development guideline concept. For the development of the urban site, Meteotest was commissioned to conduct a microclimatic analysis together with the city of Lucerne as a pilot project.
We were provided with simplified 3D data of the buildings and the surrounding design. These data were implemented in the microclimatic model PALM4U in 1 m resolution. In addition to the actual state, three different design variants were modeled. In each case, we considered an afternoon and a night situation on a typical summer heat day and analyzed indicators such as the Physiologically Equivalent Temperature (PET) and existing cold air systems. In the case study of the Tschuopis Areal, in exchange with the planners and the city of Lucerne, we were able to highlight through the climate analysis in which areas an effective climate-adapted design already exists and in which places there is potential to improve the quality of stay.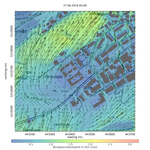 Illustration of nighttime cold air runoff through the site.